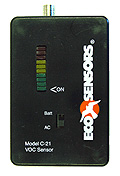 Includes Audio Alarm, Battery operation and Provision for External Alarm and Data Logger
For paint shops, printers, dry cleaners, woodworkers, vehicle repair facilities, chemical production areas and wherever indoor air quality monitoring is required: the Model C-21 gas sensor helps you comply with the new VOC air quality regulations for hydrocarbon gases and solvent vapors.
Benefits:
Constantly monitors your work environment. Detects leaks and poor air quality before they are a health hazard. Alarms below OSHA TLV for most common solvent-based VOCs.
No installation. Easily used and understood by non-technical personnel.
Virtually no maintenance.
24 hour per day, 7 days a week guarding for leaks.
Beeper will sound when preset level of contamination is reached.
Features:
Safety Features:
Enclosure: Self extinguishing ABS plastic
Sensor: Heated element is flame arrestor protected
Electrical: (a) Circuits operate at 12 volts/250mA or less with no high capacity inductors or capacitors. (b) Automatically resetting fuse to protect against excess current flow and excess heating. (c) Dual zener-type diode barrier to protect against surges, spikes, and over-voltage and reverse polarities.
Specifications:
Range: Full scale = 50-100 ppm for most solvent based VOCs.
Bargraph display: Green = normal. Yellow = caution. Red = danger.
Response time: Within a few seconds of the VOC gas reaching the sensor.
Measurement principle: HMOS (heated metal oxide semiconductor) sensor.
Size: 85 × 35 × 60 mm (3.25 × 1.375 × 2.375 in)
Weight: 140 gr (5 oz).
Power requirements: 12 VDC at 300 mA. AC adapters available worldwide.
Battery: Self-contained NiCad or NiMH. Approximately 2 hour capacity. Recharged by AC adapter overnight.
Gases and Vapors the C-21 will Detect:
Acetaldehyde
Acetone
Acetonitrile
Acetylene
Allyl alcohol
Ammonia
Arsine
Benzene
Butane
2-Butanone (MEK)
2-Butoxyethanol
Butyl acetate
Butyl alcohol
Carbon monoxide
Carbon tetrachloride
Chlorobenzene
Chloroform
Chloroprene
Cumene
Cyclohexane
Cyclohexanol
Cyclohexanone
Dichloroethyl ether
Diacetone alcohol
Diborane
1,1 Dichloroethane
1,2 Dichloroethane
Diethylamine
Diethylamino ehtanol
Diiaobutyl ketone
Dimethylamine
Dimethylformamide
Dinitrobenzene
Dinitrotoluene
Ether
2-Ethoxyethanol
Ethyl alcohol
Ethylamine
Ethyl benzene
Ethyl bromide
Ethylbutyl ketone
Ethyl chloride
Ethyl ether
Ethyl foemate
Ethylenediaznine
Ethylene dichioride
Ethylene oxide
Formaldehyde
Frfuyl alcohol
Gasoline/Diesel fuel
Heptane
Hexachloroethane
Hexane
2-Hexanone
Hydrogen
Hydrogen bromide
Hydrogen chloride
Hydrogen cyanide
Hydrogen sulfide
Isoamyl alcohol
Isobutyl alcohol
Isopropyl alcohol
LP. gas
Methane
Methyl alcohol
Methyl butyl ketone
Methylamine
Methyl cellosolve
Methyl chloride
Methyl chloroform
Methylcyclohexane.
Methylcyclohexanot
Methylene chloride
Methyl ethyl ketone
MIBK (Hexone)
Methyl mercaptan
Naptha
Napthalene
Natural gas
Nitro benzene
Nitrochloro benzene
Nitroethane
Nitrotoluene
Pentane
2-Pentanone
PERCHLOROETHYLENE
Pet. distillates
Phenylether
Phosphine
Propane
Propylene oxide
R-11 R-12 R-22
R-S02
Silane
Sulfur dioxide
Toluene
1,1,1, TCE
1,1,2 TCE
Trichioroethylene
Xylene
The above listing Is only a partial one, with materials actually run In our laboratory,
Detection threshold is typically at or below the OSHA established limits.